Art & Art History
Voices: Ren e Green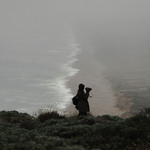 Tuesday, April 20, 2010
Location:
Gallery 400 Lecture Room
400 South Peoria Street
Via films, writings, installations, digital media, architecture, sound-related works, and events, Ren e Green s work engages with investigations into circuits of relation and exchange over time, the gaps and shifts in what survives in public and private memories, as well as what has been imagined and invented. Green also focuses on the effects of a changing trans-cultural sphere on what can now be made and thought.
Green (born 1959) has had solo exhibitions at Portikus, Frankfurt; Centro Cultural de Bel m, Lisbon; Fundaci Antoni T pies, Barcelona; Vienna Secession; Stichting de Appel, Amsterdam; and the Museum of Contemporary Art, Los Angeles. Her work has been exhibited at the Museum of Contemporary Art, Chicago; the Institute of Contemporary Art, London; Centre Pompidou, Paris; Museu d'Art Contemporani de Barcelona; Museum Ludwig, Cologne; and the Hammer Museum, Los Angeles. Her work has also been included in numerous biennials and other major art events, such as Manifesta 7 (2008), the Istanbul Biennial (2007), the Seville Biennial (2006), Documenta XI (2002), the Kwangju Biennale (1997), the Johannesburg Biennial (1997), the Whitney Biennial (1993), and the Venice Biennale (1993). Additionally, she has contributed writings to Texte zur Kunst, October, Public Culture, and Frieze. Her books include Negotiations in the Contact Zone (2003).
Co-presented with the Museum of Contemporary Art, Chicago, as part of Studio Chicago, a year-long collaborative project that focuses on the artist's studio from October 2009 to October 2010.