Art & Art History
Voices: Meg Cranston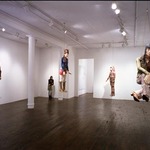 Tuesday, October 28, 2008
Location:
Gallery 400 Lecture Room
400 South Peoria Street
Meg Cranston s (born 1960) dynamic oeuvre blends humor with pathos in conceptual works ranging from work based upon the life of Marvin Gaye to life-sized self-portraits as pi atas to a weather balloon filled with all of the air necessary to read all of Jane Austen s novels aloud. From collage and drawing to sculpture and installation, Cranston uses a variety of mediums and subject matter that make her work as unpredictable as it is engrossing.
In 2002, Meg Cranston collaborated with John Baldessari to curate the group exhibition An Interest In Life, which traveled across the United States. Her work has also been exhibited at Los Angeles Contemporary Exhibitions; Rosamund Felsen Gallery, Santa Monica; and Leo Koenig Inc., New York. 
Image: Meg Cranston, Magical Death, 2002, installation, courtesy Leo Koenig, Inc.