Art & Art History
Voices: Matthew Goulish and Lin Hixson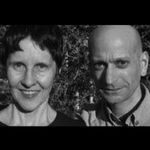 Monday, November 29, 1993–Tuesday, November 30, 1993
Location:
Gallery 400 Lecture Room
400 South Peoria Street
The five-member performance collective Goat Island is made up of Matthew Goulish, Karen Christopher, Tim McCain, Greg McCain, and director Lin Hixson. Their work involves dance, theater, performance, and literature but it is difficult to put a heading to what they do. Their work is collaborative and their style is eclectic.
The group's current work, It's Shifting Hank, was commissioned by the Ferens Art Gallery in Hull, England. It is the fourth work they have created since the group, whose name is derived from a part of Rhode Island, was founded in 1987. Other pieces they have performed are Soldier, Child, Tortured Man and We Got a Date.
Goulish earned a BA in theater from Kalamazoo College, Michigan. Hixson earned a BA from the University of Oregon and an MFA from Otis Art Institute, Los Angeles.