Art & Art History
Voices: Hank Willis Thomas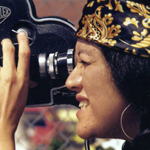 Wednesday, September 17, 2014–Thursday, September 18, 2014
Location:
Gallery 400
400 South Peoria Street
Hank Willis Thomas is a conceptual artist working across various media to address themes of identity, history, popular culture, and the construction of race. His work takes shape in a variety of forms, ranging from photography and installation to dialogue-based social practices.  Willis Thomas' multigenerational video project, Question Bridge,was the subject of an exhibition at the DuSable Museum of African American History in 2014. Question Bridge invites Black men to ask each other questions and respond via a multimedia website and app. Willis Thomas will present an artist's talk followed by a conversation with scholar Barbara Ransby.
Willis Thomas received his BFA from New York University s Tisch School of the Arts and his MFA in photography, along with an MA in visual criticism, from California College of the Arts (CCA) in San Francisco. Thomas was a visiting professor at CCA and in the MFA programs at Maryland Institute College of Art and ICP/Bard and has lectured at Yale University, Princeton University, the Birmingham Museum of Art and the Mus e du Quai Branly in Paris. His work has been featured in many publications including Reflections in Black (Norton, 2000) 25 under 25: Up-and-Coming American Photographers (CDS, 2003), 30 Americans (RFC, 2008). Willis Thomas monograph,
Pitch Blackness, was published by Aperture in 2008. He received fellowships from the Tribeca Film Institute, W.E.B. DuBois Institute at Harvard University, and he was an artist in residence at John Hopkins University.
Willis Thomas has exhibited in galleries and museums throughout the U.S. and abroad including, Galerie Anne De Villepoix in Paris, Annarumma 404 in Milan, the Studio Museum in Harlem, and the Yerba Buena Center for the Arts in San Francisco, among many others. His work is in numerous public collections including the Museum of Modern Art New York, the Guggenheim Museum, the Whitney Museum of American Art, the Brooklyn Museum, the High Museum of Art and the Museum of Fine Arts Houston. Recent notable exhibitions include Hank Willis Thomas at the Cleveland Museum of Art, Strange Fruit at the Corcoran Gallery of Art, Picture Windows: Hank Willis Thomas in collaboration with Sanford Biggers at the International Center for Photography, and The Istanbul Biennial.
Barbara Ransby is a noted historian, writer and longtime activist. She is a Professor of African American Studies, Gender and Women s Studies, and History at the University of Illinois at Chicago (UIC) where she directs the campus-wide Social Justice Initiative. Professor Ransby is author of the highly acclaimed biography, Ella Baker and the Black Freedom Movement: A Radical Democratic Vision. As an activist, Ransby was an initiator of the
African American Women in Defense of Ourselves campaign in 1991, a co-convener of The Black Radical Congress in 1998, and a founder of Ella s Daughters, a network of women working in Ella Baker s tradition.
Image courtesy of the Artist and Jack Shainman Gallery, New York.
The Day I Discovered I was Colored, 2009, Inkjet print. Appropriated from an illustration published in
Negro Digest during the 1960s. The image underscores the concept of blackness as a learned social condition that is realized in opposition to whiteness.