Art & Art History
Voices: Gregg Bordowitz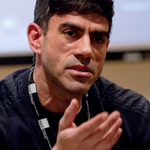 Wednesday, October 16, 1996–Thursday, October 17, 1996
Location:
Gallery 400 Lecture Room
400 South Peoria Street
Gregg Bordowitz (born 1964) is a video maker, activist, and writer. For the past five years he has produced videos for the Gay Men's Health Crisis addressing such AIDS and HIV related issues as safe sex, pornography, AIDS activism, and living with AIDS. From 1988 to 1991 he was a member of the activist group ACT UP, where he played a principal role organizing protests and acts of civil disobedience, such as the 1988 non-violent take over of the Food and Drug Administration. In 1990, he was instrumental in establishing the Clean Needle Exchange, a program serving intravenous drug users.
His writings include "Picture a Coalition," in the collection
AIDS Cultural Analysis, Cultural Activism (MIT Press);"Dense Moments," in the collection
Uncontrollable Bodies (Bay Press); and an essay appearing in the forthcoming anthology
Queer Looks (Routlege Press).
Bill Horrigan, media director for the Wexner Center for the Arts, has called Bordowitz's Fast Trip, Long Drop a landmark piece. To quote Douglas Crimp, "Fast Trip, Long Drop is the riskiest film about AIDS made to date. Finally someone has the guts to face despair honestly and without a trace of self-pity. Gregg Bordowitz's autobiographical musings on living day to day with AIDS, on his father, on his Jewish identity, on what became AIDS activism are angry, mournful, cynical, funny, moving, and wise."