Art & Art History
Voices: Dan Peterman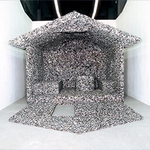 Monday, November 04, 2002–Tuesday, November 05, 2002
Location:
Gallery 400 Lecture Room
1240 West Harrison Street
Dan Peterman's  projects situate themselves at an intersection of ecological modes of perception and numerous strategies of artmaking. Though often focused on materials and processes that convey meaning through aesthetically informed manipulations, Peterman's work is never fully removed from its real world context. Elements borrowed from the waste stream remain a part of it and dysfunctional surpluses and processes are not so much resolved as thrown into a speculative spotlight.
Peterman's sculptural concerns often wind their way into social complexities. For example, in an ongoing series of installations entitled Excerpts from the Universal Lab, Peterman explores the aspirations, dysfunction, and eventual demise of an amateur scientific research facility operated clandestinely in Chicago from the 1960s to the late 1990s. This private initiative fed off the discards of the research facilities at the University of Chicago and was simultaneously a utopic center for amateur research, an elicit hazardous material depot, and an extreme exercise in the compulsion to collect and save.
Part of Peterman's practice includes the operation of a multifunctional Experimental Station, which was recently destroyed by fire. It housed, along with his studio, a diverse collection of cultural and small-scale enterprises including The Baffler magazine, a visiting artist and exhibition program, and an innovative, educational bicycle program for youths.
Dan Peterman (born 1960) has had solo exhibitions at Kunstverein Hannover; Andrea Rosen Gallery, New York; Klosterfelde, Berlin; Kunsthalle Basel; the Saint Louis Art Museum; and the Museum of Contemporary Art, Chicago. He has participated in group exhibitions at the Tweed Museum of Art, Duluth, Minnesota; G teborgs Konstmuseum, Sweden; Magasin Centre National d'Art Contemporain de Grenoble, France; Museum Villa Stuck, Munich; and Kasseler Kunstverein, Kassel, Germany. He received a BFA from the University of Wisconsin and an MFA from the University of Chicago.