Art & Art History
Visita Guiada / Public Tour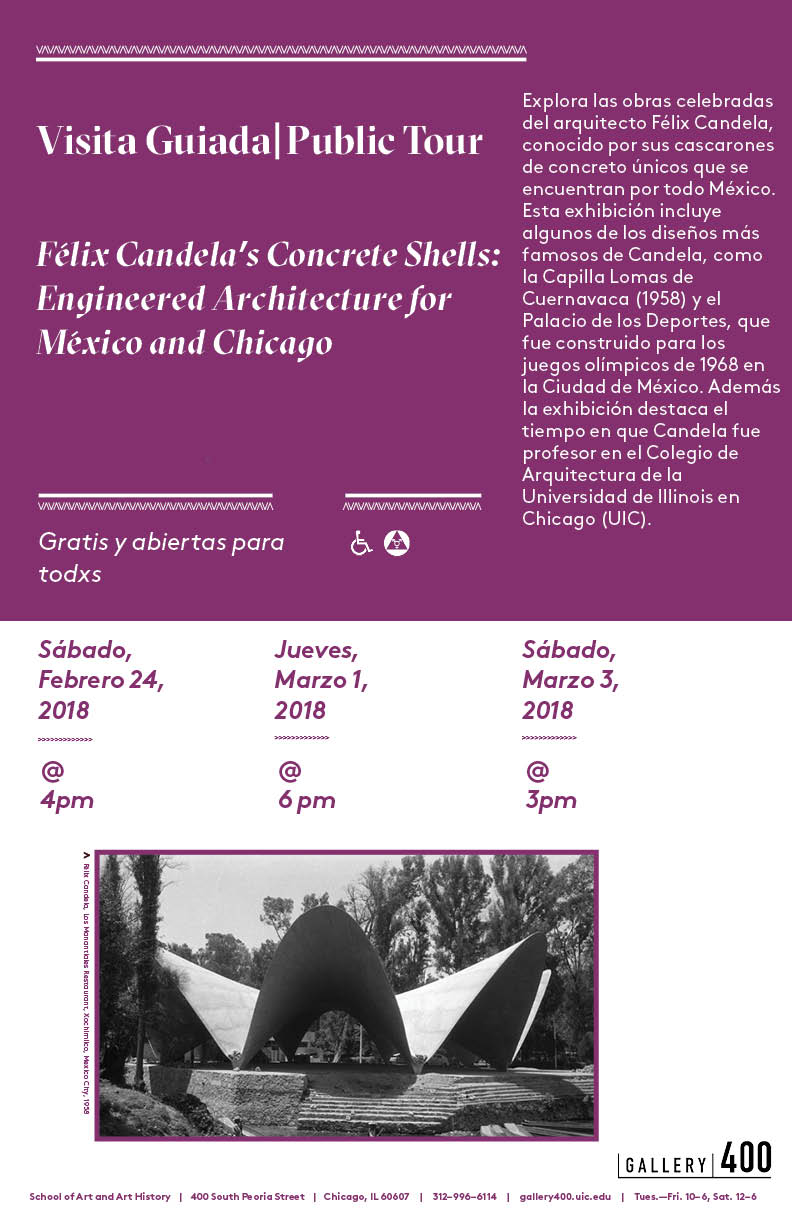 Thursday, March 01, 2018
Location:
Gallery 400
400 S. Peoria St
Visita Guiada / Public Tour: Félix Candela's Concrete Shells: An Engineered Architecture for México and Chicago
Explora las obras celebradas del arquitecto Félix Candela, conocido por sus cascarones de concreto únicos que se encuentran por todo México. Esta exhibición incluye algunos de los diseños más famosos de Candela, como la Capilla Lomas de Cuernavaca (1958) y el Palacio de los Deportes, que fue construido para los juegos olímpicos de 1968 en la Ciudad de México. Además la exhibición destaca el tiempo en que Candela fue profesor en el Colegio de Arquitectura de la Universidad de Illinois en Chicago (UIC).
La visita guiada será presentada en español y durará aproximadamente 30 minutos. Visitas guiadas en español serán ofrecidas en las fechas siguientes:
Sábado, Feb. 24 – 4 pm
Jueves, Mar. 1 – 6 pm
Sábado, Mar. 3 – 3 pm
Explore the work of celebrated architect Félix Candela, best known for his unique concrete shell structures built throughout Mexico. Highlights of the exhibition include some of his most famous designs such as the Chapel Lomas de Cuernavaca (1958) and the Palacio de los Deportes built for the 1968 Olympics in Mexico City. Additionally, the exhibition spotlights his time in the 1970s as a professor at the School of Architecture at the University of Illinois at Chicago (UIC).
The gallery tour will be led in Spanish and last approximately 30 minutes. Tours in Spanish will be offered on the following dates and times:
Saturday, Feb. 24 – 4 pm
Thursday, Mar. 1 – 6 pm
Saturday, Mar. 3 – 3 pm