Art & Art History
UIC School of Art and Art History Open House/Open Studios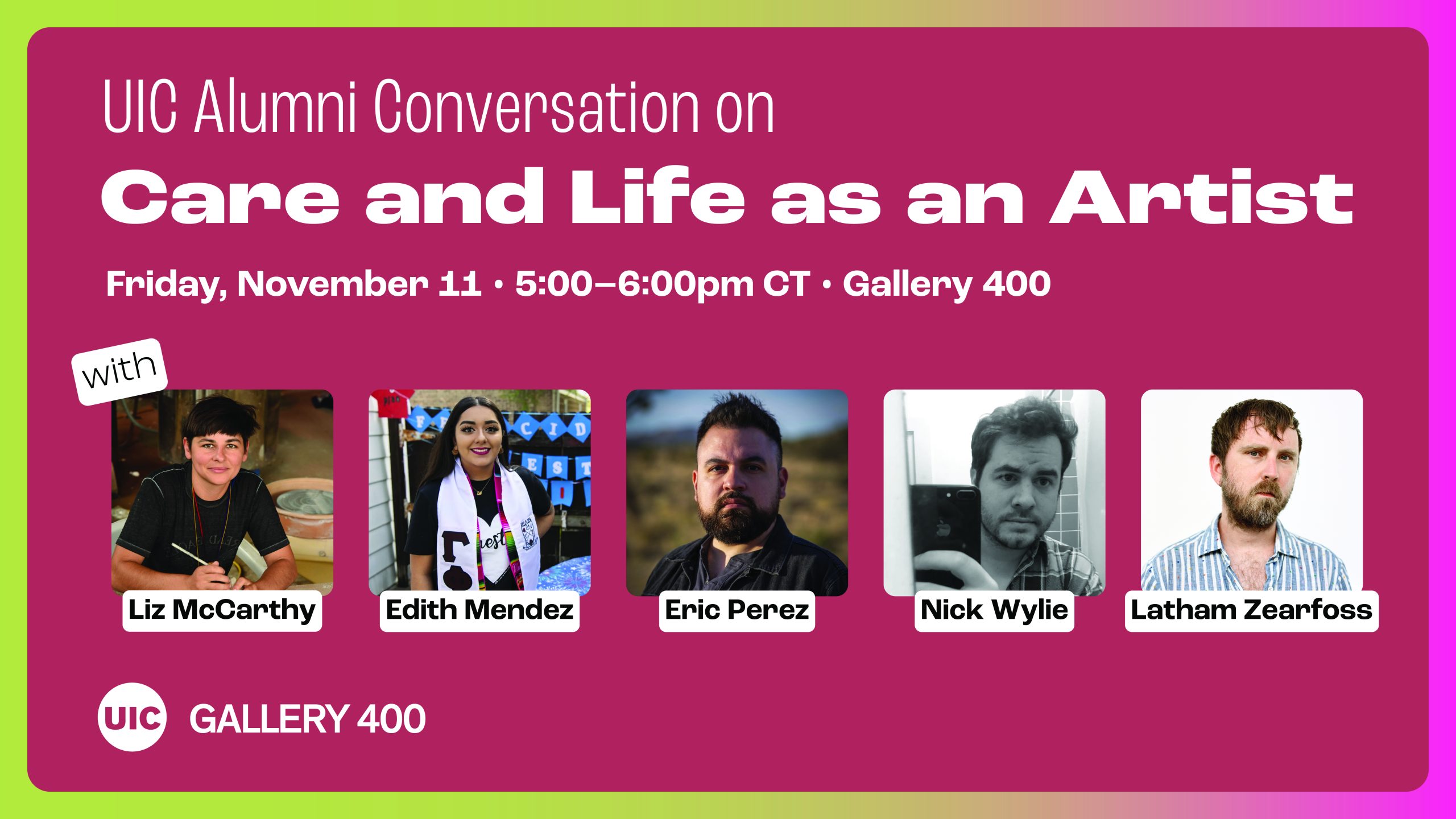 Friday, November 11, 2022
Location:
Gallery 400
400 S Peoria Chicago, IL 60607
As part of the School of Art and Art History's Open House/Open Studios, join us in Gallery 400 for an informal conversation with UIC alumni Liz McCarthy, Edith Méndez, Eric Perez, Nick Wylie, and Latham Zearfoss, featured artists in the Gallery's current exhibition For Each Other. In a relaxed format that's more dialogue than a presentation, the alumni artists discuss their experience at UIC as students, their careers since then, and what care means in their lives and work.
For Each Other highlights the ways a group of Chicago-based artists and collectives consider care in their work and the contexts they create for their work. In the included artworks and projects, care is an active, participatory process, whether as mutual aid, respite, grounding, or self-advocacy.
Stick around for more programming from the MUSE, Art History, and IDEA's departments. Food and drinks will be served.
ABOUT:
Liz McCarthy (She/they) is a Chicago-based artist that combines ceramics with other objects and performances. She is founding Director of the GnarWare Workshop ceramics school and community studio. She is also a lecturer in Ceramics at the School of the Art Institute of Chicago. Currently she has a solo exhibition, "MONSTRARE," currently on view at Belong Gallery in Chicago through November 5th 2022. 
Eric Perez is an artist and educator in the city of Chicago. Perez's work primarily uses photography to focus on the impacts and experience of being a marine during his two deployments as part of the Global War on Terror. As Project Manager for Floating Museum, he deploys his skills in photography and videography to document Floating Museum's projects. He also leads a team in the deployment of two inflatable monuments throughout the city of Chicago.
Eric studied photography at Triton College and earned his BFA at the University of Illinois at Chicago. In 2019, he was selected to take part in Chicago Artist Coalition's Launch Residency. In 2022, he was selected to be a National Endowment for the Humanities Veteran Fellow with the emerging Veterans Art Movement. Perez's work has been shown in UIC's 2019 BFA thesis show, Triton College Art Gallery, the Art Institute of Chicago, and Gallery 400.
Nick Wylie is an artist, organizer, and educator based in Chicago. From 2015-18 he served as Associate Director of Southern Exposure, a 45-year-old artist-run nonprofit Southern Exposure in San Francisco. Wylie received his BFA from Carnegie Mellon University, did post-baccalaureate work in Art History at Northwestern University, and went to University of Illinois at Chicago for his MFA. In 2006 he co-founded Harold Arts, a Chicago-based non-profit arts organization with a residency in Ohio, and was its co-director until early 2010. He then co-founded ACRE (Artists' Cooperative Residency and Exhibitions), a 501(c)3 with residency in rural Wisconsin and an extensive exhibitions program in Chicago. Wylie served as co-director of ACRE until moving to San Francisco and joining its Board of Directors in 2015. Wylie was also Founding Artistic Director at Mana Contemporary Chicago, a large art center in Pilsen from 2012-15. He has taught artmaking and arts administration courses at The School of the Art Institute of Chicago, University of Illinois at Chicago, and University of St Francis. Wylie's art practice, which incorporates video technology, performance, drawing, and queer futurity, has haunted galleries in Chicago and beyond for the past fifteen years. His work currently focuses on Elmer Ellsworth, dandy abolitionist and purported lover of Lincoln's, who was first to die in the Civil War after taking down a giant confederate flag.
Latham Zearfoss works in Chicago, where they produce time-based images, objects and experiences about selfhood and otherness. Outside of the studio, they contribute to collective motions toward joy and reflection through social projects such as a queer dance party (Chances Dances), a critical space for white allyship (Make Yourself Useful), and an itinerant conference on socially-engaged art (Open Engagement). Latham graduated from The School of the Art Institute of Chicago with a BFA in 2008 and the University of Illinois at Chicago with an MFA in 2011. They have exhibited their work, screened their videos, and DJed internationally and all over the U.S.
ACCESS INFORMATION: 
This program is free. ASL and CART captioning will be available. For questions and access accommodations, email gallery400engagement@gmail.com.