Art & Art History
UIC 2016 MFA Screening 2: Do Systems Dream of Monster Sheep? Little Stabs at Narrative by Liz Cambron and Jimmy Schaus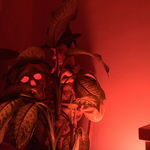 Thursday, April 07, 2016
Location:
The Nightingale Cinema
1084 North Milwaukee Avenue
The recent experimental narrative work of Liz Cambron and Jimmy Schaus deals with individuals navigating activism and cultural production in a time of heightened surveillance, mass incarceration, and shifting definitions of self and identity. The videos in this program, ranging from shorts to (potential) feature length films, contain humor, paranoia, and glimpses of the underground. Through the genres of magical realism and science fiction, their stories contain windows into fictional worlds within the films themselves. Both Cambron and Schaus are formal adventurers; they are not content with describing and prescribing society's ills with worn cinematic or narrative tropes. Instead, the two are committed to generating new visual and sonic worlds, emphasizing the role which perceptual expansion (and not to mention fun and mischief!) might play out in social evolution.
Co-Presented by UIC School of Art & Art History on the occasion of the 2016 UIC MFA Thesis Exhibitions.
Program:
Fuck the Fasces, Liz Cambron, (2016, 11:04 min, HD video)
Fuck the Fasces is a short fiction video that follows a protagonist that has been magically transported out of prison by a magic mountain, only to be traced by the silver markings the government left on his wrists.
Penetration at the White House, Liz Cambron (2016, 6:34 min, HD video)
Penetration at the Whitehouse is a short fiction video that centers around two friends having a paranoid conversation about internet spying, Kim Kardashian, and pissing in the shower.
Your Friends are in a Cult, Liz Cambron, (2016, in-progress, HD video)
Your Friends are in a Cult is a short fiction video about a breakup between two friends who can't agree on what's best for the "movement".
St. Francis Hears a Noise, Jimmy Schaus (2016, in-progress, HD video)
Slapstick speculative fiction about a sound recordist thrust between various establishments of perpetual production.
Please note that this event will take place at The Nightingale Cinema, 1084 North Milwaukee Avenue.