Art & Art History
Sistah Sinema Chicago: Thick Relations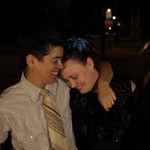 Saturday, December 06, 2014
Location:
Gallery 400
400 South Peoria
Gallery 400 is pleased to partner with the UIC Gender and Sexuality Center, Quare Square Collective, and the national organization Sistah Sinema to launch Sistah Sinema Chicago, a monthly moderated film event focused on queer women of color.
Quare Square Collective, established in 2013 on Chicago's South Side, is a community-based organization that supports LGBTQ artists of color in the Midwest through collaborative projects, marketing, publications and performances. Sistah Sinema Chicago screenings are held at Gallery 400 and will be followed by a moderated discussion to foster dialogue examining the struggles and opportunities unique to queer women of color.
All screenings are at 2pm. Admission is $10 for the general public and free for the UIC community (with I-card). Snacks and non-alcoholic beverages will be provided.
This month's film, Thick Relations, is an organic blend of documentary and narrative film elements that create a snapshot of an urban, queer community. Featuring a motley crew of compelling queer anti-heroes, the film constructs and calls forth queer accounts of time, space, and relationality that are unscripted by conventional or institutional forms of social belonging. Thick Relations is a Chosen Family affair.
Director Jules Rosskam uses recurring water images as a metaphor for the fluid promises and potentialities of queer desires and kinships, making his film a celebration of the intimacies that exist outside the normative trappings of proper or mature romances. In this way, Thick Relations exists as a kind of Anti-RomCom; it defies narrative resolution and allows for relational ambiguity.
Thick Relations subverts romantic tropes and opts to trace the ways that chosen family arrangements embrace a different logic of love, alliance, and identification.
Rosskam s film is not a place to define things, to define people, or relationships. It is an ambiguous cinematic space where every day tasks, dinner conversations, and sexual themes all run parallel in an open and unresolved fashion. Inside of this current, the film s central characters are permitted to express love in incalculable ways. 
The film celebrates a queer counterpublic that embraces desire/pleasure as its primary, orienting ethos. In one scene, someone casually remarks, Once I date someone, they become family. This is the principle tenet that underscores each character s respective journey through the film. How is chosen family built, maintained, and mourned?
A post-film discussion will be moderated by Jackie Boyd (co-star, Thick Relations).