Art & Art History
Sistah Sinema Chicago: Karmen Gei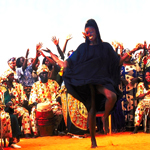 Saturday, November 15, 2014
Location:
Gallery 400
400 South Peoria Street
Gallery 400 is pleased to partner with the UIC Gender and Sexuality Center, Quare Square Collective, and the national organization Sistah Sinema to launch Sistah Sinema Chicago, a monthly moderated film event focused on queer women of color. 
Quare Square Collective, established in 2013 on Chicago's South Side, is a community-based organization that supports LGBTQ artists of color in the Midwest through collaborative projects, marketing, publications and performances. Sistah Sinema Chicago screenings are held at Gallery 400 and will be followed by a moderated discussion to foster dialogue examining the struggles and opportunities unique to queer women of color. 
All screenings are at 2pm. Admission is $10 for the general public and free for the UIC community (with I-card). Snacks and non-alcoholic beverages will be provided.
In this month's film, Karmen Gei, the story of tempestuous Carmen, first told in a short story by Prosper Merimee and made famous in an opera by Georges Bizet, gets a new and striking modern-dress adaptation in this provocative drama with stunning Senegalese music. Karmen Gei (Jeinaba Diop Gai) is an inmate in a women's prison in Senegal; bisexual, lusty, impulsive, and looking out for herself at all times, Karmen's uninhibited dancing and sensual demeanor excites the Sapphic passions of Angelique (Stephanie Biddle), the prison's warden.
Film is in Wolof with English sub-titles.