Art & Art History
Portal: online screenings | Yoshua Okón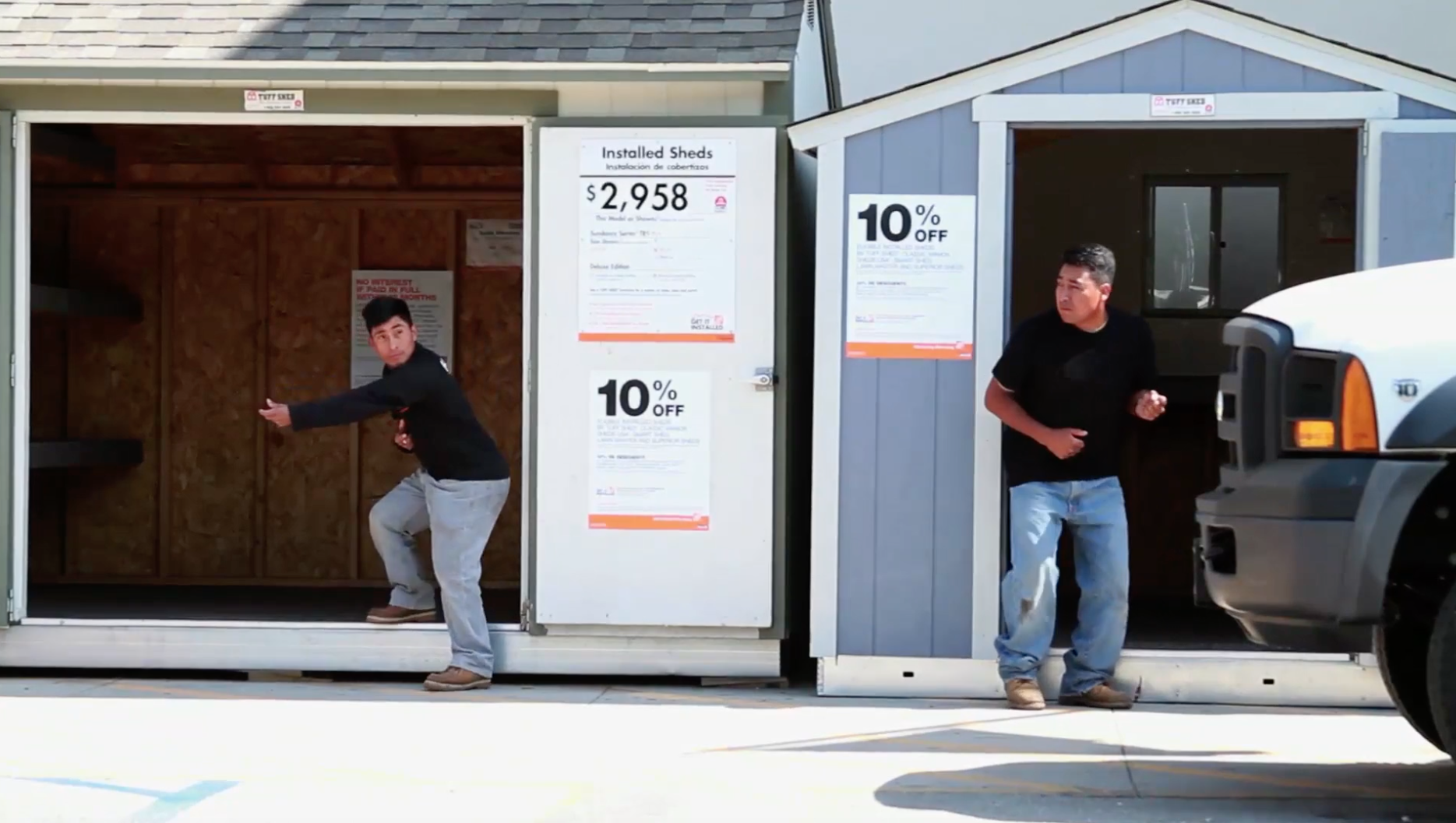 Monday, August 10, 2020–Monday, August 24, 2020
Yoshua Okón
Octopus, 2011
Courtesy the artist.
During the COVID-19 stay at home period, Gallery 400 presents a series of online screenings featuring work by artists who have previously exhibited at the Gallery. Each work will stream on the Gallery 400 website for two weeks.
Inserted within the US tradition of civil war re-enactments, Octopus re-enacts the Guatemalan civil war. Civil war re-enactments traditionally take place in the actual fields where historical battles happened and are performed by people who did not actually fight in the war. However, for this occasion, the choice of site is symbolic in nature. The battlefield is relocated to US soil at a Home Depot parking lot in Los Angeles. It is performed by the actual combatants who, during the 1990s fought in the war that is being re-enacted: a dozen members of the Los Angeles Mayan community, all recent undocumented immigrants who gather to look for work as day laborers at the same parking lot where the filming takes place.
The title makes reference to the nickname used in Guatemala for The United Fruit Company, UFCO (today known as Chiquita Banana), a US Company based in Guatemala and directly linked to the CIA led coup and the following civil war. At the time, UFCO was by far Guatemala's largest landowner with tax-exempt export privileges since 1901 and control of 10% of Guatemala's economy through a monopoly of its ports and exclusive rights to the nation's railroad and telegraph systems.
Yoshua Okón was born in Mexico City in 1970 where he currently lives. His work, like a series of near-­‐‑sociological experiments executed for the camera, blends staged situations, documentation, and improvisation and questions habitual perceptions of reality and truth, selfhood and morality. In 2002 he received an MFA from UCLA with a Fulbright scholarship. His solo shows exhibitions include: Yoshua Okón: Collateral, MUAC, Mexico City and Amparo Museum, Puebla; Yoshua Okón, Ghebaly Gallery, LA; Yoshua Okón: In the Land of Ownership, ASAKUSA, Tokio; Saló Island, UC Irvine, Irvine; Piovra, Kaufmann Repetto, Milan; Poulpe, Mor Charpentier, Paris; Octopus, Cornerhouse, Manchester and Hammer Museum, Los Angeles and SUBTITLE, Städtische Kunsthalle, Munich. His work is included in the collections of Tate Modern, Hammer Museum, LACMA, Colección Jumex, and MUAC, among others.
Yoshua Okón exhibited at Gallery 400 as part of the 2014 show Nice Work If You Can Get It, curated by Lorelei Stewart. Exploring the legacies of industry, immaterial labor, service work, invisible labor, and more, the artists featured in the exhibition articulated a variety of responses to the relationships between labor, economy, and politics. Nice Work If You Can Get It was part of an ongoing series of exhibitions and events, Standard of Living, which explored shifts in economies and work in the wake of the 2008 financial crisis.