Art & Art History
Opening Reception for CASA: A Visual Art Exhibition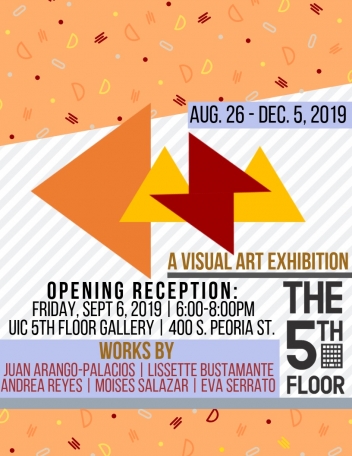 Friday, September 06, 2019–Thursday, December 05, 2019
Friday 9.6-12.5.19 6:00 PM
Exhibitions
School of Art and Art History
Please join us for the opening reception of CASA: A Visual Art Exhibition at UIC's Fifth Floor Gallery.
CASA is an exhibition of artists assessing their perception of "home" in the context of the Latin diaspora. Artists in this exhibition analyze the complex intersections of their identity– addressing themes such as the forging of cultural identity in predominantly white areas; nostalgia for a country their parents called home; disconnect between family members with heteronormative ideals of gender and sexuality; and inherited family trauma from migration, assimilation, and oppression.
This exhibition features artworks by Juan Arango-Palacios, Lissette Bustamante, Andrea Reyes, Moises Salazar, and Eva Serrato. This exhibition is curated by Kayleigh Doyen.
CASA is held at UIC's Fifth Floor Gallery, located on the fifth floor of the Art and Exhibition Hall (AEH) at 400 S. Peoria Street. The exhibition runs from August 26 through December 5, 2019, with weekly open hours Monday through Thursday from 12:00-2:00pm and Friday 12:00-6:00pm.