Art & Art History
Kathy Rose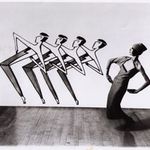 Friday, February 03, 1984
Location:
Gallery 400
400 South Peoria Street
Kathy Rose, animator, dancer and choreographer, presents animated shorts The Mysterians and Pencil Booklings, along with her unique dance-performances Primitive Movers and Strange Ditties, where she literally danced with the celluloid characters she created. Her choreography synthesizes styles and references drawn from the histories of modern dance and 20th-century art. Frequent changes of costume further enrich this colorful, multi-media presentation. A movement workshop and discussion also accompanied the performance.
Rose s work has evolved from her early drawn animated films of the 1970 s, through her unique, pioneering performance work combining dance with film, to her current surreal performance video spectacles and installations, which take inspiration from symbolist art and the Japanese Noh theater. Rose has received six grants from the National Endowment for the Arts, four grants from the New York State Council for the Arts, three grants from the New York Foundation for the Arts, among many others. She is currently a Master Lecturer in the Media Arts Department at the University of the Arts in Philadelphia.
Kathy Rose: Animation with Dance/Performance is supported by the University of Illinois at Chicago School of Art and Design's College of Architecture, Art and Urban Planning.