Art & Art History
Hyphen Makings: 2016 MFA Thesis Exhibition 1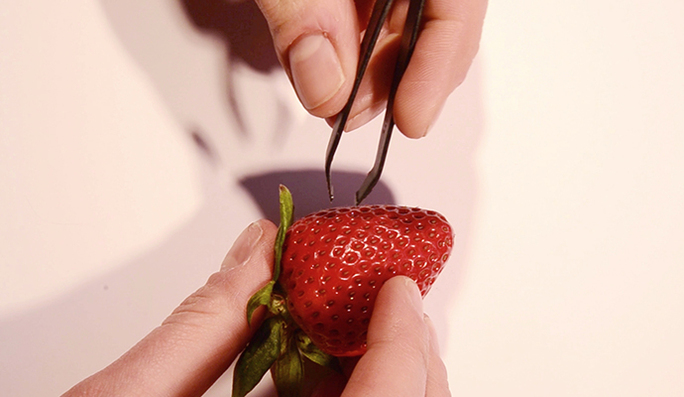 Tuesday, March 29, 2016–Saturday, April 02, 2016
Location:
Gallery 400
400 South Peoria Street, Chicago, IL 60607
Kate Calleri, Jessica Pierotti, Bailey Romaine, and Aaron Walker.
Hyphen Makings is the first in three UIC MFA Thesis Exhibitions in Studio Arts, Photography, Moving Image, and New Media Arts featuring artists Kate Calleri, Jessica Pierotti, Bailey Romaine, and Aaron Walker.
arranges
stay bounce bell
hyphen makings
corner
pour lodge coin
mink
relace
dealer
-Clark Coolidge. "arranges." Space, 1970.
The hyphen both joins and separates; it marks a new form. Whether sculptural, metaphysical, or social, we can build new forms from—extract from—our everyday surroundings: light, dirt, building materials, clothing, food, and the list goes on. The beauty of the unspectacular is right in front of us; the unmonumental objects of the every day communicate their aesthetic possibilities without words. Encountering the spaces between the concrete and knowable, we play, we joke, we improvise, sometimes yielding meaningful results. These poetic approximations of that which is definitive help us attain new understandings and new possibilities. An exhibition-as-dérive proposes an aesthetic encounter with hyphen-making practices conjoined and wondrously detached from things we've seen before.
Kate Calleri's work engages the politics of light, from soft ambient to overexposed and dangerous. As a photo-based artist, she makes images and installations that address how photographs exist within memory – both human and digital. Her work is subversively playful and generates moments when photographic technology is used against itself.
Jessica Pierotti works photographically within mixed mediums. She struggles with themes of control, anxiety, desire, and femininity, often working with personal content and everyday objects as a means of focusing in on modest gestures.
Bailey Romaine's work translates forms and materials from the built environment through improvisation and material play. Her sculptures both presence and un-named existing material relationships. She received her BFA from SAIC in 2011.
Aaron Walker is a social practitioner, self-publisher, and organizer from Cincinnati, Ohio. His projects often stem from engagements with localized, autonomous artist-run communities and the systems of support formed within.