Art & Art History
GCC at the American Indian Center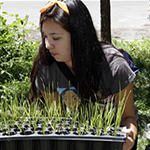 Saturday, July 21, 2018
Location:
American Indian Center
3401 W Ainslie St, Chicago, IL
Garden for a Changing Climate is excited to partner with the American Indian Center, the oldest Inter-tribal Cultural Center within North America and the primary cultural and community resource for nearly 65,000 American Indians in Chicagoland's six county region. The Garden for a Changing Climate Street Fair celebrates the American Indian Center's Northwest Walking Museum, a walking trail that will connect and highlight the historical and continued activation of two rivers, the North Branch of the Chicago River and the Des Plaines River.
The street fair includes walking tours, indigenous snacks such as teas and seed medleys, seed bomb making, a PROtest banner workshop, an introduction to the contemporary mound installation by artist Santiago X, and much more!
Garden for a Changing Climate Street Fair Activities:
Chi-Nations Youth Council Reclaiming Chicago Walking Tour: Learn the history of Chicago from the perspectives of the Indigenous peoples of this land
SHPSHFTRS Workshop: Lead artist of the Northwest Portage Walking Museum, Santiago X, discusses his process and vision for revitalizing the creation of Indigenous earthworks and placemaking within urbanized areas
Chicago Water Reclamation District Tree Seedling Distribution: Visitors are invited to take a seedling to plant in a location suitable for what will grow to be a 50 foot tree
Seed Bomb Making: Learn to make native plant 'seed bombs' with clay, compost, and native seeds which you can take and toss into empty lots and neglected landscapes—helping to re-indigenize our city
(PRO)test Banner Making: Make a sign to represent your vision for what we are for—as opposed to against—to create positive change in our city and the planet
Pressed Plant Button Making: Make buttons designed with pressed flowers and plant trimmings
Wild Yeast Cultivation and Sourdough Bread Starter Demo: Learn about and interact with local microflora in this fermentation and bread making demonstration with Gallery 400 intern and 'bioartist' Andrew Rutherdale
Forms and Features Nature Poetry Workshop: Read and discuss nature poems by Native American writers and then compose your own original nature poem in this creative writing workshop led by Poetry Foundation Library Coordinator Maggie Queeney. that respond to the questions posed by Garden for a Changing Climate. All experience levels are welcome to a discussion and. RSVP here!
Garden for a Changing Climate Street Fair Information Tables:
Chi-Nations Youth Council: Learn how you can help Chi-Nations and the American Indian Center establish a Community Garden in the 35th. Chi-Nations Youth Council creates space for Native youth through arts activism and education.
Elevate Energy: Learn about resources, tips, and best practices to be environmentally friendly and more energy efficient in everyday life. Elevate Energy educates and advocates around energy efficiency resources in Illinois.
Little Village Environmental Justice Organization: The vision of LVEJO is to build a sustainable community that promotes the healthy development of youth and families, provides economic justice, and practices participatory democracy and self-determination.
Sierra Club and Peoples Climate Movement: Do you want cleaner air and water; well-paying, clean energy jobs; and a brighter future for your communities? Sign a petition demanding that Mayor Emanuel work with Chicagoans to create a plan for how Chicago can become a strong and just 100% clean energy economy.
Voter Registration: Politics are personal. Make sure you voice is heard!
Land Acknowledgement: As residents of Turtle Island (North America) we must first recognize that we are occupying stolen lands. This area is the traditional homeland of the people of the Council of Three Fires, including the Ojibwe, Potawatomi, and Odawa. It was also a site of trade, travel, gathering and healing for more than a dozen other Native tribes including the Miami and Ho Chunk. Chicago is and has always been a metropolis and center of trade for Indigenous peoples and settlers alike. For over 200 years Native Nations have been forcibly removed from this territory through acts of exploration, settlement, exploitation, assimilation and genocide. However, the State of Illinois remains home to over 100,000 tribal members.