Art & Art History
Duel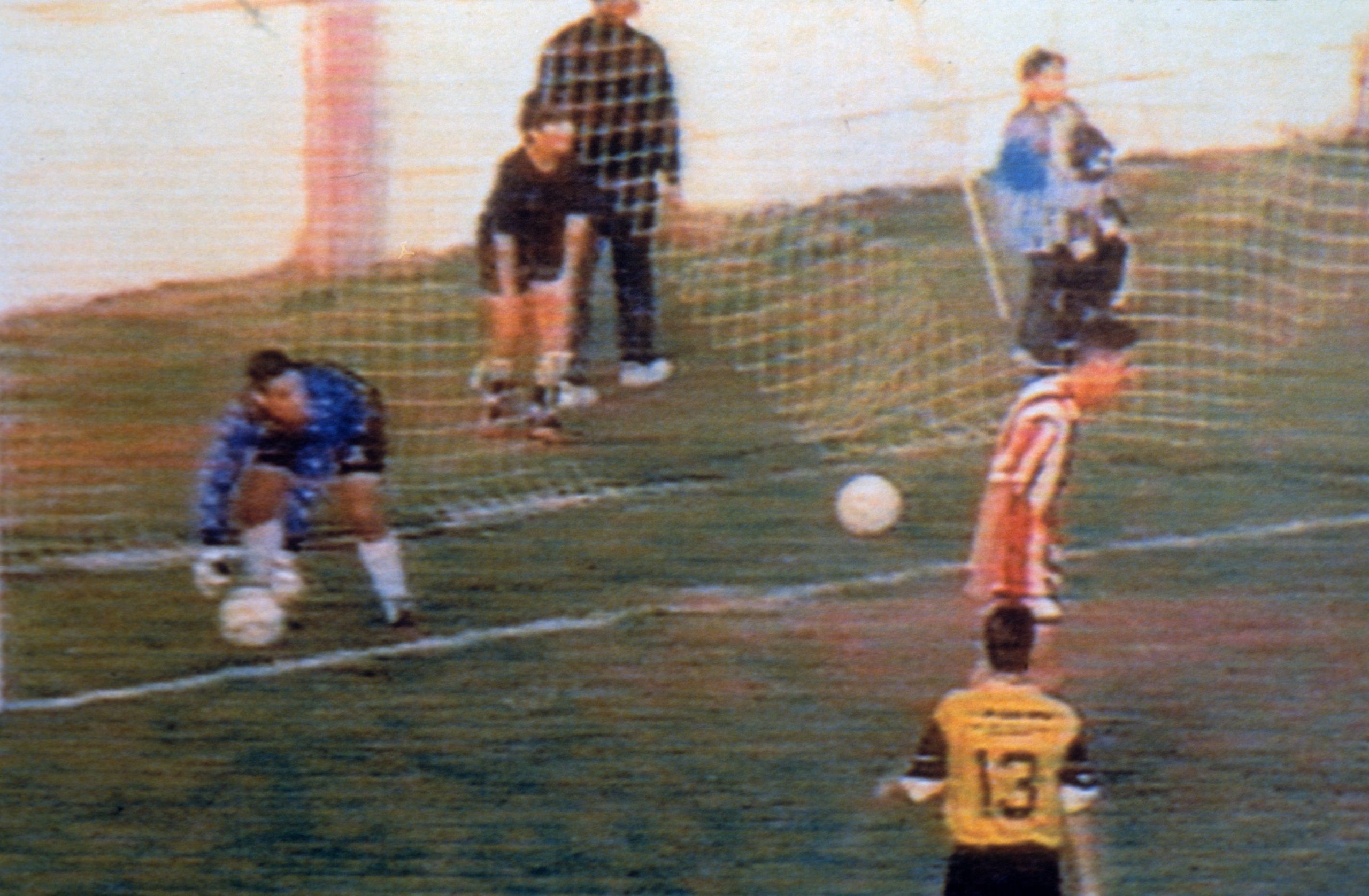 Wednesday, November 15, 2000–Friday, December 22, 2000
Location:
Gallery 400
400 South Peoria Street, Chicago, IL 60607
Uri Tzaig
A conceptual video survey spanning four years (1996–2000), Duel is the first retrospective of Tel Aviv-based artist Uri Tzaig's work in the United States. Tzaig's conceptual works in video, sculpture, photography, and graphic design alter the terms of sports and language while alluding to the desert landscape of the artist's native Israel. Directed toward our often passive acceptance of social, political, and economic mores, Tzaig's artworks subvert prescribed rules and traditions and encourage reconsideration of fixed positions and perceptions.
Over the five years leading up to Duel, Tzaig considered in his work the forms of game play as a way to fracture established structures. In 1996, he organized a well-publicized event for Lod, a mixed Israeli and Arab city near Tel Aviv—a soccer game played at a large stadium by the city 's two local teams. The game, however, differed from a typical soccer match. With the intention of shifting the focus of all involved—the fans, the referees, the game announcers, and the "winning" and "losing" players—Tzaig added an additional ball. By doubling certain elements, a motif that occurs repeatedly in his work, the artist not only disrupted play of the game and the interaction of the players, but also dislocated conventional modes of viewing.
While Tzaig 's interventions in formal, team-based games are often initially performative, time-based works, they also provide material for more complex video pieces. Duel is comprised of six video pieces, as well as photographs, poster pieces, and a game for two to four players. Also included are video works made from altered soccer and basketball games, as well as two games of Tzaig's own creation. A newer piece, originally conceived of as a CD-ROM, proposes a circular, decentralized viewpoint. By defying the obvious, Tzaig playfully creates powerful and contemplative works that non-didactically address provocative, often political, issues.
Utilizing strict formal divisions and editing structures, works such as The Universal Square (1996), composed of footage from the soccer game, and Desert (1996) combine images and text in order to question, literally and metaphorically, the viewer's position. In other works, such as Play (1996), Infinity (1998), and Trance (1998), Tzaig demonstrates fluid movement between various media and disciplines. For example, for Infinity, Tzaig worked with a troupe of dancers, instructing them in a continuously moving, one-ball game of his own creation. The flow of play changed rapidly, as did the size of the "court," causing the movements of the dancers to become more conscious as they negotiated ever-shifting boundaries. By contrast, Trance was a meditative table game that invited gallery visitors to participate in Tzaig's conceptual processes. Visitors played the game for as long as they liked while their image was presented simultaneously in a live feed on a monitor located adjacent to the playing area.
Duel was organized by Artists Space, New York, and was accompanied by a 96-page, color and black and white catalogue.
Related: