Art & Art History
Blue Talk & Love: A reading by Mecca Jamilah Sullivan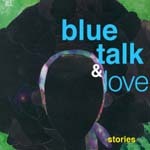 Saturday, April 11, 2015
Location:
Gallery 400
400 South Peoria Street
Quare Square Collective, Inc. presents a reading by Mecca Jamilah Sullivan from her debut short story collection Blue Talk and Love (2015). The event will also feature M. Shelly Conner reading an excerpt from her novel everyman. Blue Talk and Love will be available for purchase and signature.
Mecca Jamilah Sullivan is Assistant Professor of Women, Gender, Sexuality Studies at UMass Amherst. She holds a Ph.D. in English Literature from the University of Pennsylvania. A proud native of Harlem, NY, her critical and scholarly work on sexuality, identity, and poetics in contemporary African Diaspora culture has appeared in publications including Palimpsest: Journal of Women, Gender and the Black International, GLQ: Lesbian and Gay Studies Quarterly, From Uncle Tom s Cabin to The Help: Critical Perspectives on White-Authored Narratives of Black Life, and The Feminist Wire, where she serves as Associate Editor for Arts & Culture. In her fiction, she explores the intellectual, emotional, and bodily lives of young black women, through voice, music, and hip-hop inflected magical realist techniques.
M. Shelly Conner is a Visiting Instructor of English at Loyola University Chicago. She holds a Ph.D. in English from the University of Illinois at Chicago with a concentration in Gender and Women s Studies. She is the founder and Executive Director of Quare Square Collective, Inc., a 501(c)(3) nonprofit for queer artists of color. Shelly s critical and scholarly work has appeared in publications including the International Journal of Motorcycle Studies, xoJane, the Feminist Wire, and Black Girl Dangerous. Her fiction and plays have been published and/or produced at Skin Magazine, the Black Ensemble Theater and Second City Chicago s Training Center. Shelly is currently exploring publishing options for her debut novel everyman.
Quare Square Collective , Inc. is a 501(c)(3) nonprofit dedicated to supporting the artistic endeavors of queer artists of color, and providing community arts programming featuring their works. QSC also hosts Sistah Sinema Chicago, a quarterly screening of films by or about queer women of color, held at Gallery 400. For more information on Quare Square Collective programming and membership, visit the website at quare2collective.org.