Art & Art History
An Atlas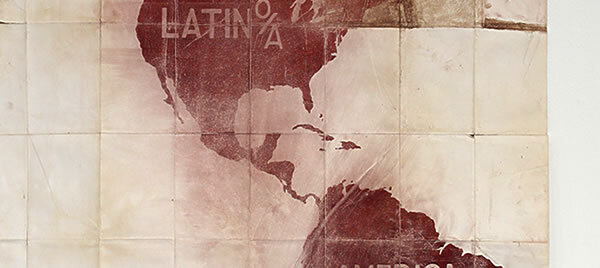 Tuesday, November 27, 2007–Saturday, January 19, 2008
Location:
Gallery 400
400 South Peoria Street, Chicago, IL 60607
An Architektur, The Center for Urban Pedagogy (CUP), Ashley Hunt, Institute for Applied Autonomy with Site-R, Invisible-5, Pedro Lasch, Lize Mogel, Trevor Paglen and John Emerson, Brooke Singer, The Speculators of AREA Chicago, Jane Tsong, and Unnayan
Organized by Lize Mogel and Alexis Bhagat, An Atlas, as a part of a cultural movement that links art, geography, and activism, explores the use of maps and mapping to promote social change. The participating artists, architects, and collectives play with cartographic conventions—geographic shapes, wayfinding symbols, and aerial views—in order to take on issues ranging from globalization to garbage.
While mapping in art practice has expanded into technological and performative realms, An Atlas focuses on a traditional aspect of the map as a work-on-paper, and, importantly, its function as a political agent. The latter is underscored by the mapmakers themselves, who are committed to social justice within their own diverse practices.
Works include Ashley Hunt's intricate diagram of the social effects of the global prison-industrial complex; the Center for Urban Pedagogy's mapping of the people who make and manage the "garbage machine" in New York City; Jane Tsong's drawing of how nature and culture clash in the Los Angeles watershed; and Trevor Paglen and John Emerson's route map of CIA rendition flights.
An Atlas is a companion exhibition to the publication, "An Atlas of Radical Cartography," published by the Journal of Aesthetics and Protest Press, Los Angeles. It is presented in conjunction with the city-wide Festival of Maps, a celebration of humanity's greatest discoveries and the maps that record our boldest explorations.
An Atlas is presented concurrently with The Inauguration of the Consulate General for the Kingdoms of Elgaland-Vargaland.
Related: