Art & Art History
An Artist's Guide to Student Loans and Financial Self-Advocacy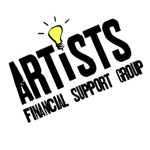 Saturday, July 30, 2016
Location:
Gallery 400
400 S. Peoria St.
In the fall of 2010, several alumni of the NYU Graduate Acting Program met in New York. After graduating from one of the foremost artistic training programs in the country, they found themselves working in the arts, yet still struggling with debt and student loans. They began to realize that they might not be able to afford to be artists, simply because they had gone to school to be artists. Attempting to leave shame and panic aside, they started the Artists Financial Support Group (AFSG). Their goal was to share everything they wished someone had told them when they finished graduate school. The AFSG has led workshops at numerous universities and artists unions.
AFSG workshops seek to educate students about financial decisions. They explain the complexities of student loans in simple terms, help students create budgets, and empower artists to embrace the uncertainty of their professions while still making responsible fiscal decisions.
The duration of the workshop is two hours, complete with a Q&A and discussion.