Design
2018–2019 Public Seminar Series: Martin Venezky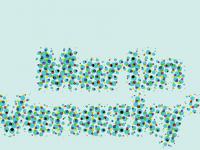 Thursday, February 07, 2019
UIC School of Design 2018–2019 Public Seminar Series
Martin Venezky
Graphic designer and artist Martin Venezky experiments in typography, book design, and photography. For the past several years he has expanded his interest in photographic process, abstraction, and installation, creating new bodies of work. The San Francisco Museum of Modern Art honored Venezky with a solo exhibition in 2001, and his monograph It Is Beautiful … Then Gone was published by Princeton Architectural Press. In 2015 Venezky was inducted into the Alliance Graphique Internationale, and in 2018 San Francisco's Letterform Archive acquired an extensive collection of his work, studies, and process.
Venezky has taught at RISD, CalArts, and California College of the Arts, where he is currently a professor in the graduate design program. He has an undergraduate degree from Dartmouth and an MFA in design from Cranbrook.
The UIC School of Design public seminar series serves as a research platform for the school's MDES program, stimulating broad intellectual inquiry about the values guiding the designer by promoting discourse across industrial and graphic design.
Thursday, February 7
6:00–7:30 pm
Room 1100
Architecture and Design Studios
845 West Harrison Street, Chicago
This event is free and open to the public.
UIC School of Design 2018–19 public seminar series
This year's public seminar series explores the boundaries and overlaps between design and craft, investigating contemporary positions in design that incorporate craft as a form of critical design practice.
At a time when the reindustrialization of America is attracting growing interest, craftsmanship is making a counter-resurgence. Contemporary designers incorporate artisanal processes, materials, and the flaws of the handmade in their work, while museums are demonstrating a renewed interest in "feminine" subjects such as fiber and ceramics. Technology enables artisanal practices — 3D printing allows designers to make, customize, and repair on their own; and to serve as editor, publisher, and distributor.
While craft skills and processes have often been integral to industrial production, this revival may reflect a response to the negative consequences of modernization, globalization, and abusive labor conditions in the developing world, as it did for the Arts and Crafts movement and the early years of the Bauhaus. Or perhaps it provides an antidote to the pervasiveness of mechanistic production and the digital world, allowing space for disciplinary skill, obsessive focus, and what sociologist Richard Sennett calls "the special human condition of being engaged." Whether a form of cultural and economic resistance or an essential human value, craft's current prominence suggests a reevaluation of the importance of artisanal practices, and a renewed emphasis on the ethical value of doing a job well.
Special events
2.7.2019
6:00 PM