CADA
In Memoriam: Martin R. Hurtig (1929–2022)
Martin Russell Hurtig, artist and professor emeritus of art at UIC, died peacefully in July 2022. He was 92.
Hurtig was a prolific painter, printmaker, and sculptor who produced work with an international sensibility. He explored abstraction with intelligence, exuberance, and rigor. In an essay accompanying a retrospective of Hurtig's work, artist and critic Corey Postiglione — a former student of Hurtig's at UIC — wrote: "Over the years Hurtig has maintained a certain personal aesthetic position that runs through his entire oeuvre — a point of view based on two central concepts that he has adhered to for over forty years: his unflagging commitment to abstraction, and his need to speak visually in a nonregional voice. Art, for Hurtig, is its own domain, to be appreciated on its own terms, in its own language of the visual. His work from the very beginning of his career embraced an art that operated from a formality based in the conceptual."1
Born in 1929 to Eve and Saul Hurtig, Martin Hurtig grew up in Chicago, where his father owned a stationery store on Milwaukee Avenue. With little interest in joining the family business, he briefly attended Roosevelt University. There he enrolled in a painting class with Richard Koppe, who also taught at the Institute of Design (ID) at the Illinois Institute of Technology. Recognizing Hurtig's talent, Koppe encouraged him to transfer to ID and pursue his interest in art and design. At ID, faculty member Misch Kohn was particularly influential, teaching Hurtig the techniques that enabled him to develop his artistic voice. He received his bachelor of science degree from ID in 1952. In 1955, he studied at Atelier 17 in Paris, and in 1957 received a master's degree, also from ID.
In 1962, after teaching at Michigan State University for five years, Hurtig joined the faculty of the newly founded University of Illinois at Chicago, where he taught for several decades. At UIC he also served a term as chair of the Department of Art and Design, during which he made important hires with long-term impact, including the appointment of AIGA medalist John Massey.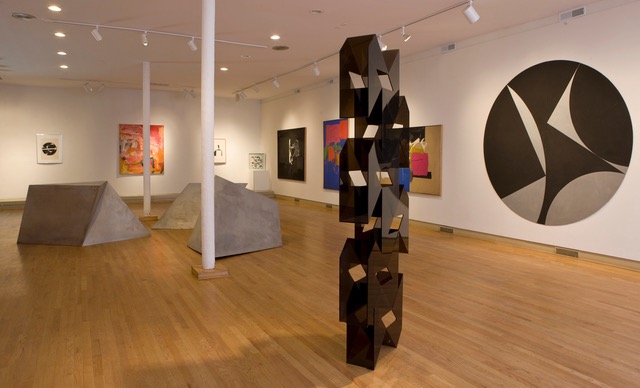 In the late 1960s and early '70s, amid the dominance of Imagism in Chicago, Hurtig joined artists Ted Argeropolos, Larry Booth, Vera Klement, and Larry Salomon to create The Five, a group committed primarily to abstraction. Throughout his fifty-year career, he executed commissions for sculptural murals, curated exhibitions, and exhibited his work both nationally and internationally, including at the Detroit Institute of Arts; the Bibliothèque Nationale, Paris; and the Osaka Triennial, Japan. His work is represented in the collections of the National Gallery of Art, the Smart Museum of Art, and the Smithsonian American Art Museum.
Hurtig's family members are also connected to UIC. He married his high school sweetheart, Anita Landau, in 1953, and the couple had three children: Janise, Anthony, and Elliott. Devoted patrons of the arts and global travelers, they spent Hurtig's sabbatical year in Paris in 1968. Anita received her PhD in clinical psychology at UIC in 1980 and served as a clinical associate professor in pediatrics for more than twenty years. She died in 2009. Janise was a visiting faculty member at UIC from 1997 to 2014, a research specialist at UIC's Center for Research on Women and Gender from 2002 to 2006, and senior researcher and codirector of the College of Education's PRAIRIE Group from 2006 to 2017. Anthony received his masters degree from the School of A­­rchitecture in 1987 and held an adjunct faculty position in 1993. Elliott received his masters degree in education from UIC in 1990.
Hurtig will be remembered by the UIC community as a passionate artist and art educator, a devoted husband and father, and a friend.
1. https://uima-chicago.org/past-exhib-list/2018/6/1/martin-hurtig-a-retrospective

Image, above: Martin Hurtig: A Retrospective (installation view), Ukrainian Institute of Modern Art, Chicago, 2018. Photo by Leslie Schwartz. Image, below: Martin Hurtig.