Design
Amir Berbić presenting at Dubai's Global Art Forum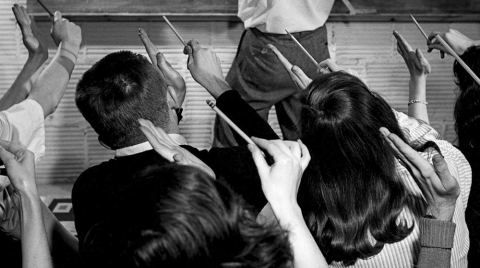 Amir Berbić, Professor and Chair of Graphic Design, is presenting at this year's Global Art Forum held in Dubai, UAE, on March 20–21.
Following on from last year's theme of automation, Global Art Forum 2019 united a diverse cast of global minds —from renowned curators and critics to educationalists and entrepreneurs—under the theme of "School is a Factory?" and addresses some of the urgent challenges and opportunities facing education today. Some of the pressing questions posed throughout the Forum's lectures, presentations and conversations were: "What should education prioritize in the coming decade?" "How should humans be taught in the age of accelerated mechanization?" "Is the notion of 'learning for life' just an opportunistic tagline?" "Will higher education escape the ghetto of elitism?" "Do past experiments in education have something to teach today?" and "Will we need humans to teach humans anymore, anyway?"
The 2019 iteration of Global Art Forum was organized by Commissioner Shumon Basar, with Editor and Writer Victoria Camblin, and Curator and Writer Fawz Kabra as Co-Directors. Berbić presented under GAF's program segment entitled "School is the Commons", and participated in a panel discussion with curator Nataša Petrešin-Bachelez, moderated by Fawz Kabra.
Image credit: Josef Albers with his class at Black Mountain College, shot for Life magazine © Photo by Genevieve Naylor / Corbis via Getty Images