Land Acknowledgment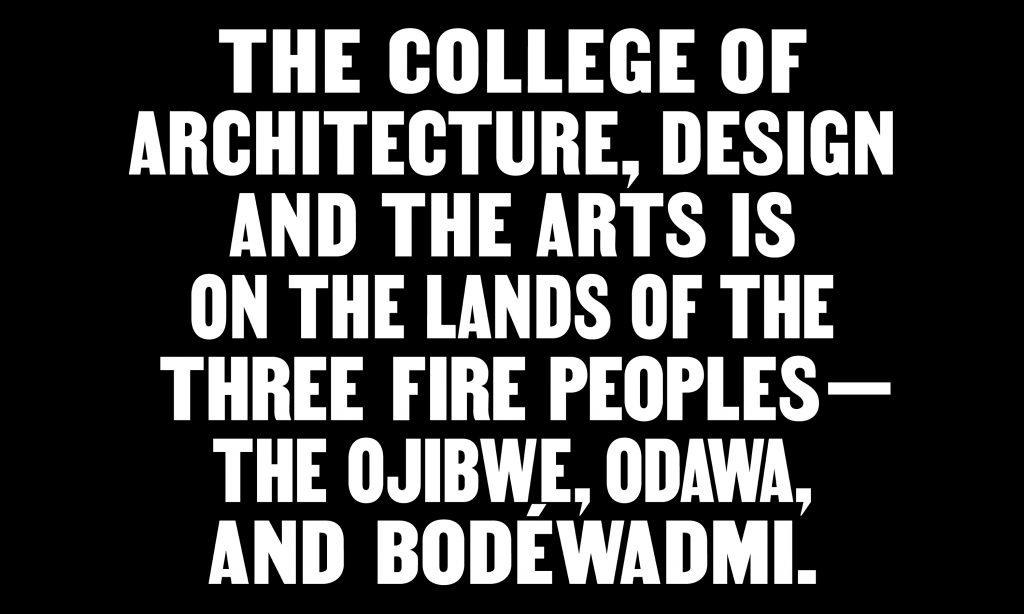 UIC's College of Architecture, Design, and the Arts is located on the traditional homelands of the Three Fire Peoples — the Ojibwe, Odawa, and Bodéwadmi. Illinois is currently home to more than 75,000 tribal members, and the Chicago area includes one of the most diverse urban Native communities in the US. Illinois is also the territory of other native communities, including the Ho-Chunk, Miami, Inoka, Menominee, Sac, Fox, and their descendants.
These lands were the traditional birthright of Indigenous peoples who were forcibly removed and who have faced two centuries of struggle for survival and identity in the wake of dispossession.
The college embraces a commitment to Indigenous rights, cultural equity, and racial justice through this acknowledgment, and a commitment to supporting the Indigenous architects, artists, designers, performers, and scholars in our community by recognizing their past and current contributions to each of our disciplines.
A land acknowledgment campaign which includes collaboration with Indigenous faculty, the Office of Diversity, and college and campus leadership to put in place posters and stickers, designed by graduate graphic design student Josh Cook.