Theatre & Music
UIC Theatre: Luck of The Irish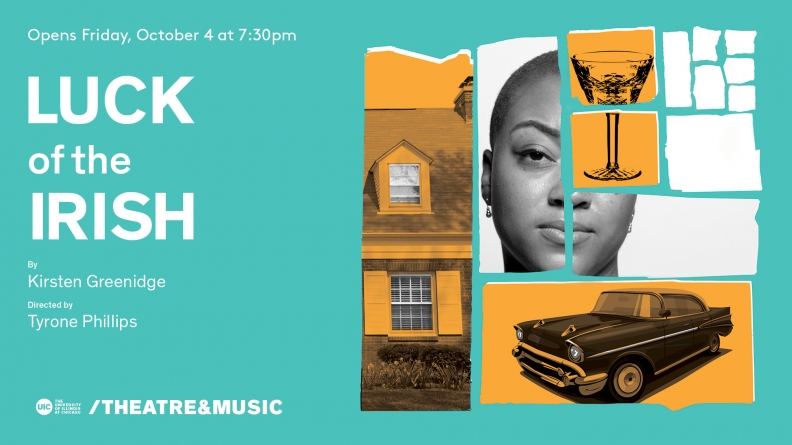 Friday, October 04, 2019–Sunday, October 13, 2019
Friday 10.4-10.13.19 7:30 PM
LUCK OF THE IRISH

By Kirsten Greenidge

Directed by Tyrone Phillips

Oct 4 – 13, 2019
When an upwardly mobile African-American couple wants to buy a home in an all-white neighborhood in 1950s Boston, they pay a struggling Irish family to "ghost-buy" a house on their behalf. Fifty years later, the Irish family wants "their" house back. Moving across two eras, The Luck of the Irish explores racial and social issues and the universal longing for home.
Kirsten Greenidge wrote the play inspired by her grandparents' efforts to buy a house in a white neighborhood. Tyrone Phillips, Artistic Director of Definition Theatre will direct at UIC Theatre for the first time.
Show Times
2pm | 10/06* 10/12 10/13
3pm | 10/09
7:30pm | 10/04 10/05 10/10 10/11 10/12
*Free post-show talk with artists and special guests. 



Topics: Ghost Buying, Integration, and Tolerance
Buy Tickets Here: http://bit.ly/LuckofTheIrishUIC
PARKING
Parking is available for a flat fee of $13.00 ($9.00 after 3pm) on the weekdays and $9.00 on the weekends in the UIC Harrison Street Parking Structure (HRPS): 1100 W Harrison. Guests can pay as they enter with cash or credit card.

There is also an open-air parking lot (Lot 1B) on the corner of Racine and Harrison Street (enter on Harrison heading east). This is a variable rate parking lot but could be less expensive if you do not stay for more than 3.5 hours.
For more information on parking visit: https://parking.uic.edu/rates-fees/
PUBLIC TRANSPORTATION

CTA Blue Line to UIC-Halsted. There are 3 exits from this platform. Take the far west exit with the long ramp (towards Morgan Street). There are also CTA buses (#7 and #60) that stop directly in front of our building.