Theatre & Music
Welcome Serena Weren, Director of Bands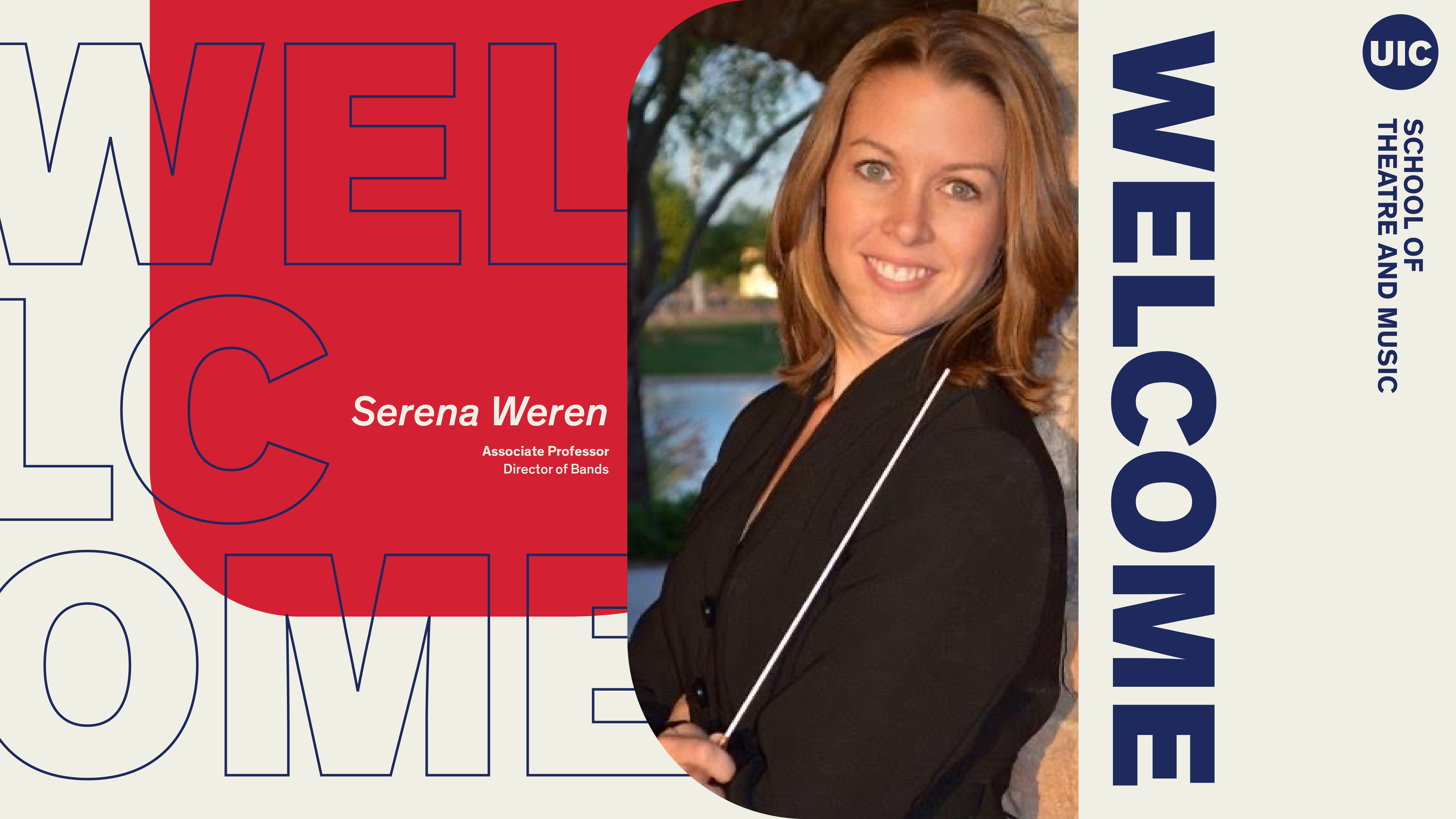 UIC School of Theatre and Music is excited to welcome Serena Weren DMA as Associate Professor and Director of Bands.

Dr. Weren earned her DMA in wind band conducting from Arizona State University under the direction of Gary W. Hill and Wayne Bailey. Prior to joining UIC, she was an Associate Professor and Director of Bands at Loyola University New Orleans.
Dr. Weren is an active guest conductor, clinician, and adjudicator for concert and marching bands across North America, and was a featured educator at the first National Marching Band Camp in Guatemala.
She has guest-conducted community bands such as the Brooklyn Wind Symphony and Acadian Wind Symphony.
This year marks Dr. Weren's fifth year participating in the Mid-Europe Wind Music Festival.
"It is an awesome opportunity to work as an instrumental coach, guest conductor, and adjudicator. It is a five-day festival that includes performances from 80 different ensembles featuring over 1500 musicians from 22 countries. It is an incredible opportunity to work and learn with so many musicians and traditions from across the globe. I had four students I previously taught at  Loyola University New Orleans join me, and hopefully we'll have some students from UIC participate next year."
Her current research interests include investigating social and physiological relationships to music making and improving health and wellness knowledge including through her work with Athletes and the Arts.
"I am interested in helping sustain and support the health and wellness of musicians so that all artists and cultural communities can have lifelong careers making art. Health and wellness are often not part of the conversations around music making, and it must be."
Dr. Brent Talbot, head of music, as well as all members of the search committee were profoundly impressed with Dr. Weren's work and her vision for the band program.
"After a highly competitive national search for a new director of bands at UIC, we are excited to welcome Associate Professor Serena Weren to the School of Theatre and Music at UIC. Not only will Dr. Weren lead our strong band program, but her research interests on musician health and wellness offer new collaborative possibilities with UIC's medical programs. We could not be more thrilled about the future of bands under Dr. Weren's leadership at UIC."
Dr. Weren has outlined her vision for the UIC band program.
"In addition to developing a health and wellness curriculum, I look forward to collaborating with UIC's medical professionals, Chicago organizations, and communities to further the research, awareness, and advocacy to create opportunities for better health and wellness outcomes for all people in the performing arts community, including students and faculty at UIC.
I look forward to collaborating with Assistant Director of Bands Nicholas Carlson and all UIC performance faculty to develop music programming that is not only engaging for all of the students but positively impacts the community as well.
I aim to broaden students' understanding and ability to effectively realize a variety of compositional voices within an ever-diversifying wind band medium. I want to give students access to different engaging musics and composers they have never been exposed to like Dope by Katahj Copley, which is an exciting piece that incorporates a lot of hip-hop, and jazz, including some Kendrick Lamar licks.
I want to empower students' ability to bring any music to life; whether it be their own voice, or trying to recreate somebody else's musical vision. I want to impact the Chicago system of musicians, and Chicago's youth and give them something right down the street to look forward to.
I hope students feel like they come away with a broader musical understanding but also to feel empowered with skills and knowledge to continue to contribute to musical communities beyond UIC. Regardless of the direction they go musically, their experiences will help them make a positive impact; whether that's a degree student trying to teach music, perform music that's important to them, or a non-degree student who is going to continue to support the arts as an audience member."
Nicholas Carlson, Assistant Director of Bands shared, "We are thrilled to have Dr. Serena Weren join our team at UIC. I look forward to working with her to grow the program, further UIC's commitment to access and equity, and strengthen music education in our community. Serena is an exceptional educator, conductor, and leader with a fresh and exciting vision for the future of UIC Bands."
Coming to Chicago from New Orleans, Dr. Weren shares the fun and joy of music festivals and culture in a major city.
"I am really excited to come from one vibrant city to another. New Orleans is rich with music from major festivals including Mardi Gras and the Jazz and Heritage Festival which brings artists like Lizzo, The Rolling Stones, and Jon Batiste, to local artists such as Mardi Gras Indians and college jazz groups. I look forward to enjoying Chicago's music festivals and the many groups my colleagues perform with."
Learn more about Dr. Serena Weren Here