Theatre & Music
Welcome Michael Allemana, Jazz Guitar Instructor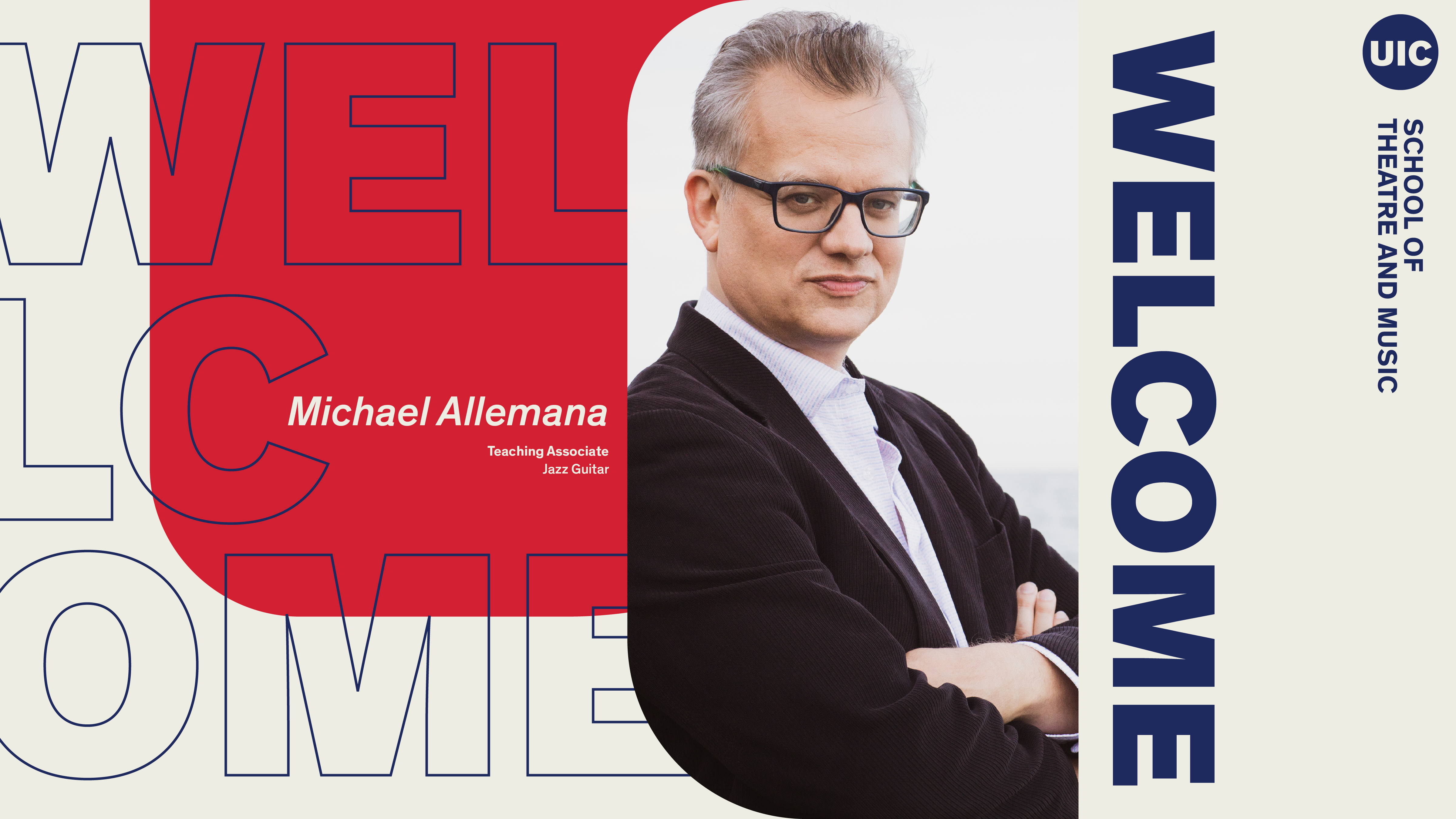 UIC School of Theatre and Music is excited to welcome Dr. Michael Allemana as a Teaching Associate and instructor of jazz guitar.
Dr. Allemana is a guitarist, composer, and ethnomusicologist who has been a fixture on the Chicago jazz scene since the early 1990s.
Dr. Allemana has shared the stage with such jazz luminaries as Charles Earland, Dr. Lonnie Smith, Jimmy Cobb, Sheila Jordan, and Steve Coleman. From 1997–2012 he was a member of saxophone legend Von Freeman's quartet at the famed New Apartment Lounge. In 2013, he established a quartet in partnership with Freeman's brother and guitar legend George Freeman, that features drum master Bernard Purdie and organist Pete Benson. They released their first album, Live at the Green Mill on ears&eyes Records, in 2017.
His most recent work includes his highly-acclaimed 2022 release Vonology on ears&eyes Records; string quartet, vocal, and horn arrangements for vocalist Paul Marinaro's 2022 release Not Quite Yet; and a quintet collaboration with saxophonist Chico Freeman, which in 2022 was named "Most Valuable Band" by the Chicago Tribune.
Dr. Allemana earned his Ph.D in Ethnomusicology from the University of Chicago with a dissertation that explores the historical and contemporary ways that Chicago's changing racial boundaries have shaped music-making and social life on the local jazz scene, with a particular focus on Von Freeman's New Apartment Lounge jam session.
Dr. Allemana shares how the history and influence of Chicago's jazz scene and the icons who shaped it is significant to UIC.
"Just south and east of where the UIC campus sits today were clubs like the Sunset Café and the Grand Terrace Ballroom which featured musicians like Earl "Fatha" Hines, Louis Armstrong, Lil Hardin Armstrong, Jimmy Knepper, and numerous other African American pioneers of improvisational practices in the 1920s and 1930s. During the 1930s and 1940s, Young musicians in Chicago such as Von Freeman, Gene Ammons, Dorothy Donegan, and others, while hearing these groups live and on broadcast radio, were gaining a rigorous musical education under Dr. Mildred Bryant-Jones and Captain Walter Dyett at DuSable High School.
From the 1970s to today, mentors like Von Freeman, pianist Jodie Christian, drummer Wilbur Campbell, saxophonist Jimmy Ellis, and others made a point to pass musical knowledge to young performers, many of whom went on to important international careers, such as Makaya McCraven, Caroline Davis, Kurt Elling, and Marquis Hill.

The Chicago scene has played an integral role in the development of jazz at an international level, so it is vital that UIC students learn this history and participate in the local scene to develop musical skills and knowledge."
As an educator, Dr. Allemana encourages his students to examine music as both musical structure and social processes; all while learning the history of the Chicago jazz scene and experiencing its rich and creative contemporary present.
"I look for my students to gain more knowledge of musical possibility while becoming more in touch with their personal creative voice. I hope to inspire students to be passionate about music in general, to enthusiastically study the diverse past and present practices that specifically encompass jazz, to learn a wide range of repertoire, and to create original work. Overall, I aim to help students reach their creative potential, gain more musical self-realization, and understand at a deeper level the social meanings that jazz has represented for different social actors across history and in the present. "
Michael Stryker, director of jazz studies, is ecstatic to welcome Dr. Allemana to the UIC jazz faculty.
"There aren't many jazz musicians around who can legitimately be called world-class artists and world-class scholars. Jazz guitarist Mike Allemana is one of those folks. He swings like crazy as a jazz guitarist, learning from the Chicago treasure, saxophonist Von Freeman. I'm thrilled to have him join the Jazz Faculty at UIC as our guitar instructor and look forward to developing additional ways that he can benefit students in the School of Theatre and Music as well as those pursuing other degree paths."
Brent Talbot, head of music, has worked closely with Stryker this year to advance a bold vision for the UIC Jazz program by recruiting faculty who are exceptional performers and who are both reflecting and shaping the sound of Chicago's rich jazz scene.
"Jazz guitarist Mike Allemana has an exceptional reputation in the city. He is a beast of a player and an outstanding scholar. We are very excited about his research interests in jazz in Chicago's South-Side neighborhoods. As a strong player and teacher, it was clear in the interview that he will be an excellent fit for our program. An added bonus is that he has an already established partnership with our incoming Vocal Jazz Ensemble director, Alyssa Allgood. You can see the two of them playing in venues across the city. I look forward to the many contributions Mike will make to our growing programs at UIC."
Learn more about Michael Allemana here