Theatre & Music
Welcome Joon Park Ph.D., Music Theory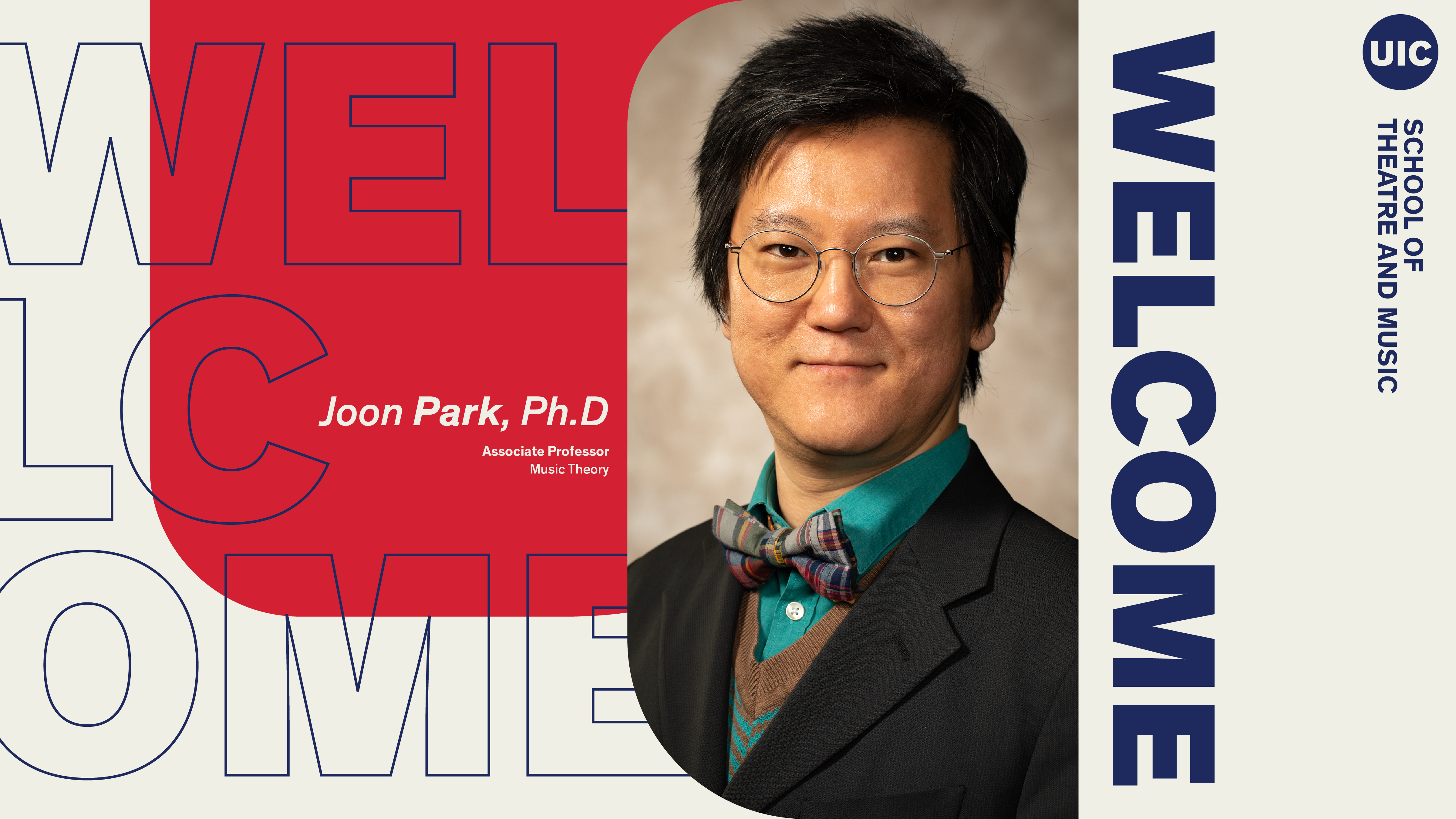 University of Illinois Chicago School of Theatre and Music is excited to welcome Joon Park Ph.D. as an Associate Professor. Dr. Park joins the UIC School of Theatre and Music from the University of Arkansas where he served as an Assistant Professor. 
Bridging theory and practice, Dr. Park is equally comfortable performing as he is teaching and writing about music. He is an active jazz pianist and a continuo player, and his scholarship has been published in world renowned academic journals such as Music Theory Online and the Journal of Jazz Studies.
Dr. Park is excited to return to Chicago and enjoy Chicago's diverse music, culture and food.
"I lived in Chicago for a year in 2009 after my masters program and I got a feel of what it's like to live in this city. Although I was able to experience the city in many ways, including being in a reggae band, there's just so many things I am excited to realize now that I will be teaching at the University of Illinois Chicago. I am able to be my authentic self as a Korean-American and enjoy the cultures of the many neighborhoods in Chicago."
Dr. Park brings his academic, performance, and personal experience as a non-native English speaker into his research and weaves together different subfields of music theory while considering what music theory can do for society at large.
"Music theory is full of technical aspects. I want students to be able to use the language of music to explain the way they experience it in very specific terms. So, even when they listen to music with which they may be less familiar, and they feel a certain emotion, or certain images come to mind, I want them to have the vocabulary to clearly articulate, in concrete and understandable ways, what is being communicated within a piece of music."
Brent C Talbot, Head of Music, is confident in Dr. Park's vision for Music Theory as it aligns to the music department's academic goals.

"Dr. Park brings a depth and breadth of knowledge in theoretical understandings of music that I know will serve us well as we re-envision our music theory curriculum. Our department embarked on a bold initiative this past year to bring to UIC a music theory scholar and teacher with the facility to engage a diverse set of musical repertoires and methodologies; and who will approach the discipline as a creative, dynamic, and global tradition—attributing equal value to aural as well as written ways of knowing and organizing sound. I believe Dr. Park is the person best suited to help us achieve these goals."
Dr. Park's research interests include jazz analysis, the music of Arnold Schoenberg, and East Asian music and music theories.
Dr. Park's current research explores culturally-informed listening techniques for some of Toshio Hosokawa's compositions that are influenced by Japanese calligraphic practices. His research on what he calls "calligraphic listening" is forthcoming in SMT-V: The Society for Music Theory Videocast Journal. He has presented on different topics at the annual meetings of the Society for Music Theory and various international and regional meetings. He currently serves as a Music Theory Midwest executive committee member and an SMT-V editorial board member.

"I am interested in analyzing early Korean and East Asian traditions and engaging with discourse on different ways to think about and analyze music. For example, instead of considering concepts of high and low—a way we might describe sound within a Western framework—we might draw upon Eastern traditions and consider concepts like clear and muddy. If you live in a place where concepts of high and low don't exist, then the way you think about music is fundamentally different. These nuances provide a new perspective and framing to music theory."
Christine Dunford, Director of the School of Theatre and Music, had an opportunity to meet and learn more about his research and teaching.
"Dr. Park's comparative approach to music theory research and teaching, which incorporates Eastern and Western thinking and practice as well as Jazz theory, pop music, and East Asian Art music, is a wonderful fit for the UIC music program which educates and trains students with a wide range of personal and musical backgrounds. We are thrilled that he is joining our faculty."
Ruth Rosenberg, Associate Professor of Music and the chair of the search committee that hired Dr. Park, worked closely with students, faculty, and staff during the search to narrow their candidate selection.
"I am so pleased that Dr. Park will be joining the UIC Music Department this fall. He stood out to the search committee for his fascinating, wide-ranging research and thoughtful, innovative teaching. I'm confident this addition to our Music Theory faculty will benefit music degree students as well as the broader campus."
Dr. Park has a personal connection to jazz, Korean-Pop and classical music both as a listener and performer. Dr. Park is currently listening to jazz organist Cory Henry, and Korean Pop songs from artists such as New Jeans and Kim Soo-chul. He recently started arranging Korean Pop songs for different jazz ensemble settings and looks forward to playing with peers in Chicago. He also cannot wait to meet and listen to UIC students during their music ensemble performances.
Learn more about Joon Park, Ph.D here