Art & Art History
The art of war: The National Veterans Art Museum Triennial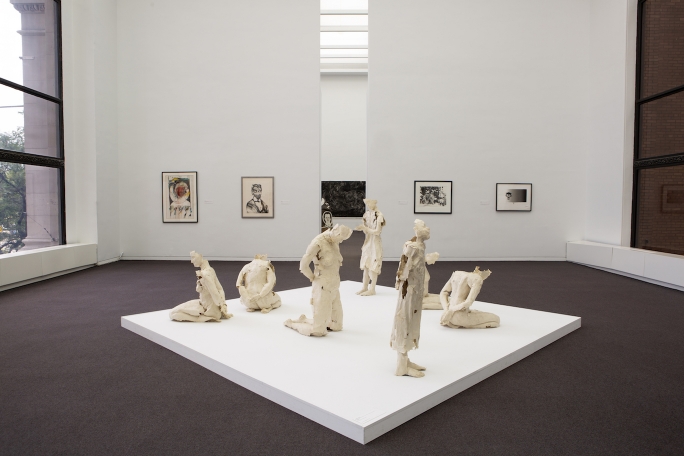 Throughout history, art has been a way for humans to grapple with war – to create meaning out of the experience of violence, to seek justice, and to imagine reconciliation. For the 2018–19 academic year, with the support of the Dialogues on the Experience of War grant from the National Endowment for the Humanities (NEH), the School of Art & Art History's Museum and Exhibition Studies program (MUSE) partnered with the National Veterans Art Museum (NVAM) to welcome artist and Iraq veteran Aaron Hughes as visiting faculty. Hughes taught the two-part, yearlong course "Investigating and Curating a Century of War and Survival," which engaged in a range of programs and activities, including community dialogues centered on veterans' experiences of war. The class was a part of a preparatory program building up to the first ever NVAN Triennial and Veteran Art Summit with exhibitions at the Chicago Cultural Center, DePaul Art Museum, and the National Veterans Art Museum this summer. The Dialogues on the Experience of War grant also funded five veteran curatorial fellows and discussion leaders, and provided support for a graduate assistantship for a MUSE student, Emma Turner-Trujillo.
In featuring the creative practices of veterans – visual, literary, and performative – the program and resulting triennial explored a century of war and survival while challenging the perception that war is something only those who have served in the military can comprehend. The works on view ranged in subject matter and medium, and included the expressions of veterans already well known as skilled artists, from a large-scale charcoal drawing of firestorm and death by Robert  Morris (Army Corp of Engineers, Korean War) to works by Jacob Lawrence (Coast Guard, WWII), H. C. Westermann (Marine Corps, WWII), Jasper Johns (Army, Korean War), and Ralph Arnold (Army, Korean War). The triennial also exhibited provocative and poignant works by artists likely unknown to visitors, such as Motherless Child, a haunting depiction of a Vietnamese girl with US soldiers by Ulysses Marshall (Army, Vietnam); Untitled, a set of decorative porcelain platters embellished with portraits of armed servicewomen, rendered in colors complementary to the pretty floral patterns of the dishes, by Jessica Putnam-Phillips (Air Force, Middle East); and Discharged, a video game by Eric J. Garcia (Air Force) exploring US recruitment strategies and treatment of Latino veterans.
The NVAM Triennial exhibitions not only highlighted the art practices of veterans, but also drew the connection between contemporary art by veterans and the history of veteran creative practices over the past century. Through the investigations and dialogues during the course, the NVAM Triennial exhibition  highlighted the signs, symbols, forms, techniques, and strategies that veterans have used across generations to foster a better understanding of the impact of war across society.
"Veterans who are artists can feel pretty disconnected from both their military experience and the creative community,"  Hughes explained.  "I  was humbled by  the opportunity to connect  UIC graduate students with veterans, and to witness veterans seeing themselves as part of a rich history of veteran art. Through the class and resulting Triennial, I watched veterans find a place where all their identities could exist – a home for their art, and a community to make art in."
Reviewing the triennial for the Chicago Tribune, Lori Waxman wrote: "Those of us who have not directly witnessed war need to see its violence, losses and traumas made tangible by those who have experienced it. Veteran art isn't often enough presented outside of a context of art therapy, but displaying it for a civilian population, in art museums, insists on the urgency of its political and cultural implications. If not all of that art looks quite as sophisticated as one might expect to find in, say, the Whitney Biennial . . . it bears remembering that polished does not always equal profound."