Art & Art History
Ömür Harmanşah appointed Director of UIC's School of Art and Art History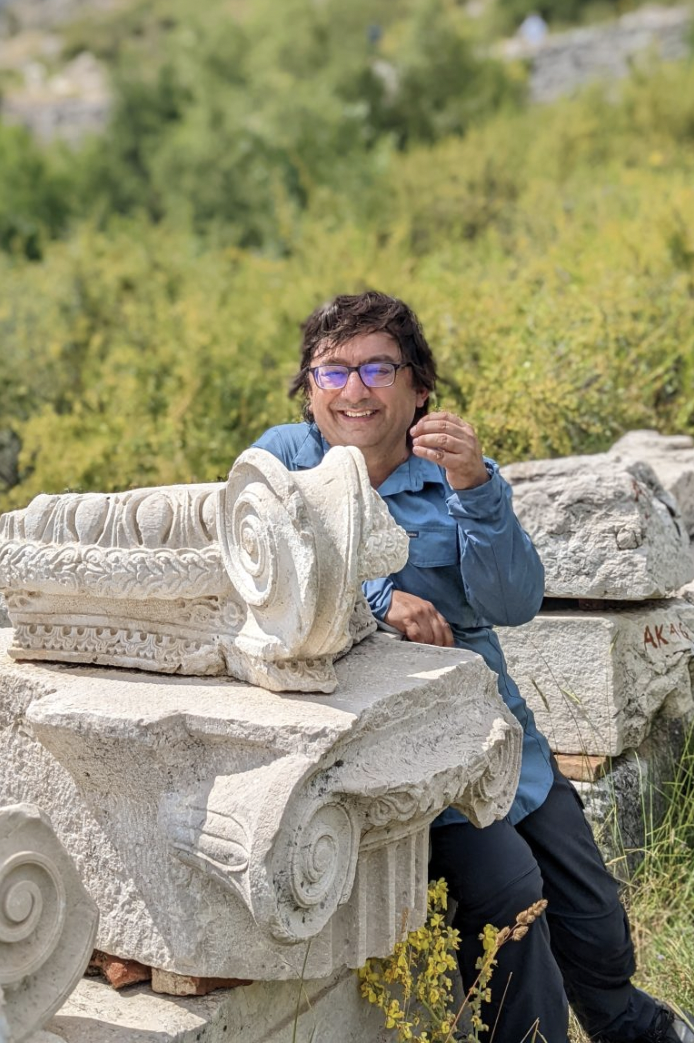 Architectural historian and a landscape archaeologist Ömür Harmanşah has been appointed director of UIC's School of Art and Art History, pending approval by the Illinois Board of Trustees, effective Tuesday, August 16.
This new role as director squares with Harmanşah's belief in the productivity and creativity that comes from drawing people from different backgrounds to work and think together. He believes the School of Art and Art History brings together an incredibly rich group of educators, staff, and students with backgrounds in studio arts, art history, museum and exhibition studies, curatorial practice, interdisciplinary arts, and art education.
"Taking a leadership role in this academic unit means to me to be a convener of a creative collectivity. I aspire to support the growth and health of that creative collectivity and collective imagination," said Harmanşah. Part of his goal is to help the school and its students quickly adapt to the changing world around them, including social, political, and environmental movements. "This is a time of dramatic change, and our job is to welcome change in our institution and in our curriculum," he said.
Harmanşah's current research focuses on the history of landscapes in the Middle East and the politics of ecology, place, and cultural heritage at the time of climate change; and he specializes in the art, architecture, and material cultures of the ancient Middle East. His earlier research focused on the architecture of ancient cities and the production of urban space, while also reflecting on the circulation of architectural knowledge. He has written on image-making practices in urban spaces, as well as on monuments carved from living rock at springs and caves.
Harmanşah is the author of two monographs, Cities and the Shaping of Memory in the Ancient Near East (Cambridge University Press, 2013) and Place, Memory, and Healing: An Archaeology of Anatolian Rock Monuments (Routledge, 2015). He edited the volume Of Rocks and Water: Towards an Archaeology of Place (Oxbow Books, 2014) and co-edited Scribbling Through History: Graffiti, Places, and People from Antiquity to Modernity (Bloomsbury, 2018). He is one of the authors of a new global art history survey textbook The History of Art: A Global View — Prehistory to the Present (Thames & Hudson, 2021). Harmanşah is currently working on a monograph on the landscapes of the Anthropocene, investigating the politics of archaeological fieldwork and cultural heritage and the practices of writing landscape history in a changing climate.
Born and raised in Turkey, Harmanşah studied architecture and architectural history at Middle East Technical University (Ankara, Turkey), and received his PhD from the University of Pennsylvania in art history (2005). He taught at Reed College and Brown University before joining UIC's School of Art and Art History faculty in 2014. Harmanşah has received several sabbatical and research awards, including Koç University's Research Center for Anatolian Civilizations Senior Fellowship, Brown University's Cogut Center for the Humanities Faculty Fellowship, and University of Texas at Austin's Donald D. Harrington Faculty Research Fellowship. He was elected a "Rising Star" in Art, Architecture, and the Humanities by UIC's Office of the Vice Chancellor in 2016.
"Ömür Harmanşah has more than 18 years of experience as an accomplished educator and researcher," said Rebecca Rugg, dean of UIC's College of Architecture, Design, and the Arts. "His profound scholarly knowledge working at the intersection of the ancient and contemporary, his appreciation for disciplinary intersection, and his strong management and administration skills honed in archaeological field projects make him a perfect fit for leadership in the School of Art and Art History. We are delighted to have Ömür Harmanşah take up this leadership position to lead the school into its next phase."
Read more about Harmanşah and his appointment on UIC Today's website. For other publications, please consult his academia page.